16 Oct
I know I promised you a new spaghetti squash recipe & since it is What I Ate Wednesday…here it is!

Broccoli and Cheese Spaghetti Squash Bake (vegan)
Makes approximately 4 servings
Ingredients:
1 spaghetti squash, cooked and prepared (Check out my post for 3 ways to cook spaghetti squash)
1 cup chopped broccoli
Vegan cheese sauce (adapted from Oh She Glows recipe)
1/2 cup Panko breadcrumbs
Cheese sauce ingredients:
1 tbsp coconut oil
3/4 cup unsweetened Almond milk
1 tbsp cornstarch
1/2 tsp garlic powder
8 tbsp nutritional yeast
1 tsp Dijon mustard
1 tsp Sriracha
1 cup canned pumpkin
Sea salt and black pepper, to taste
1.  Add coconut oil to a sauce pan.  Do not start to heat the oil but you can preheat the oven to 350F.
2.  In a separate bowl, whisk together the milk, cornstarch and garlic powder.  Add the mixture to the sauce pan with the coconut oil and stir.
3.  Add mustard, Sriracha and salt/pepper and heat over low heat.
4.  Stir in nutritional yeast and whisk until the sauce has thickened (it should only take a minute or so).
5.  Finally, add the pumpkin and stir until combined.
6.  Mix cheese sauce in a large bowl with the cooked spaghetti squash and the chopped broccoli.
7.  Pour the mixture into a casserole dish (I used a 9 inch round nonstick casserole dish).
8.  Sprinkle the breadcrumbs on top and put in the oven for approximately 35 minutes or until the outside edges begin to bubble.
9.  Enjoy!
I have been eating a lot of squash for the past few weeks – I am in full fall mode!
My breakfasts have consisted of oatmeal topped with homemade applesauce.
My lunches have consisted of soup, chili and more soup.
& my dinners have been a nice array of butternut squash, acorn squash and spaghetti squash.
Very fall, indeed.
Make sure to check out Peas And Crayons WIAW link-up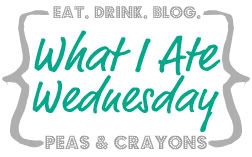 & let me know if you have any great fall squash recipes I should try!