14 Jan
It is time for my Weekly Chase!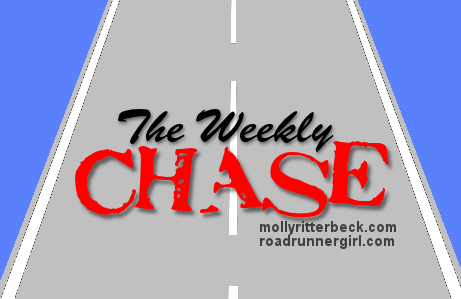 Let's recap last week's goals:
1. Incorporate more veggies into my day before dinner. ((Included baby carrots as my snack at work two days last week and had a salad one day for lunch – I call that progress!))
2. Read for 30 minutes per day.  ((I read on the train on the way home from work every day this week which equals out to about 20 minutes and I read before bed every night!  WIN.))

3. Go to at least one fitness class this week. ((Soulcycle with Megan on Thursday and Kickboxing on Friday!  WIN +1!))

4. Follow my weekly training as closely as possible:
Monday – Rest (Done.)
Tuesday – 2m (Done! Before work even! 2m in about 22minutes)
Wednesday – Rest (Done.)
Thursday – AM 5m Tempo (Did not happen b/c I was going to Soulcycle that night AND I didn't feel like getting up at the crack of dawn.)
Friday – Kickboxing (Done.)
Saturday – LR 6-7m @ 11:26 & Bikram Yoga (5m LR in 53:29.  I was super sore & my body was exhausted so I kept it to an easy 5m and skipped the Bikram Yoga)
Sunday – Rest/1m walk with Freckles (Walked about 1.5 miles with Freckles and did planks/crunches)
Overall, I was pretty happy with how my goals when this week!  Now…on to the next!
1.  Drink more water during the day while at work.
2.  10 push-ups a day.  *Kickboxing and Soulcycle made me realize how weak my upper body is!!
3.  Read two magazines this week and at least 15 minutes of reading my book per day.  *I have a stack of unread magazines that I need to start working on!
4.  Go to The Running Company to get a running analysis and buy new running shoes!  & cross-training shoes for all of those classes I am going to
5.  Follow my training schedule as closely as possible:
Monday – Squats, lunges and crunches.
Tuesday – 3m in the AM.
Wednesday – Bikram Yoga.
Thursday – 4m speedwork in the AM & Power Yoga in the PM.
Friday – Rest.
Saturday – 6m LR in the AM & Booty Ballet class at 1PM.
Sunday – Walk with Freckles.
So that's that!
What are yours goals this week?!